Fundraising that's Easy and a Proven Success!
E-Scrip —This is a program that establishes relationships between commerce and community. This is a truly free and painless way to support us and our programming. Safeway, a participant in this program, contributes a percentage of your grocery loyalty cards, credit card, or debit/ATM card purchases to us every time you use those cards. Each year the Center receives over $3,000 from this program, at no extra cost to you, the shopper.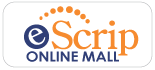 You can now shop at over 1,000 of your favorite online merchants – right from this link – and we earn up to 16% of the purchase amount!


eScrip is proven to be a fantastic resource for fundraising where participating business partners contribute a percentage of your grocery loyalty cards, credit card, and debit/ATM card purchases to the school, group or organization of your choice. Visit our family of merchants for a complete list of participants in the program.
Here's How it Works
•You register any one or all of your existing grocery loyalty, debit and credit cards for use in the program.
•Participating merchants will make contributions to your chosen group, based on purchases made by you, just by using the cards you have registered.
•Your purchases are tracked and available to you online, allowing you to see just how much you are earning on your child's behalf!